Sävö - a pearl in the archipelago
Discover Sörmland Blog
How honored I am to write my first (guest) blog ever!
The connection between Stefanie and me is that we both love being outdoors, walking on the Sörmlandsleden-trail and fell in love with Sweden! We are both not Swedish originally, me from Holland and Stefanie, as you might know, from Germany.
In this article, I will tell you about a small little pearl in the archipelago of the Baltic Sea between the lovely town Trosa and the capital of Sörmland, Nyköping: the island Sävö. Here, I run a small hostel with a café.
Sävö is a small island, about 2.5 km long and 0.8 km wide. Section 53:2 of the Sörmlandsleden hiking trail, leads a very beautiful round along the whole island. [You can read more about the Sörmlandsleden hiking trail in this blog post]. Along the way, you can see rock formations as witnesses of the last ice age, forests, old traditional fences, a farm and of course the sea almost everywhere you go. On the island, there are many century-old oak trees that provide a home for many insects, birds and even snakes nowadays. Many are still alive and have stood strong through all storms and weathers over so many decades.
At the highest point of the island (Kikarberget) you have a beautiful view over 'Tvären'. This is an 85 m deep bay where a meteorite hit the earth over 460 million years ago. On the other side of the island, where Stella Maris is watching out over the sea, you can hide inside her big mantel or take a selfie with the coastline in the background. Stella maris is not only a piece of art made by Anita Grede, it is also a shelter where you can hide from the wind and eat your lunch while you leave your name in her guestbook.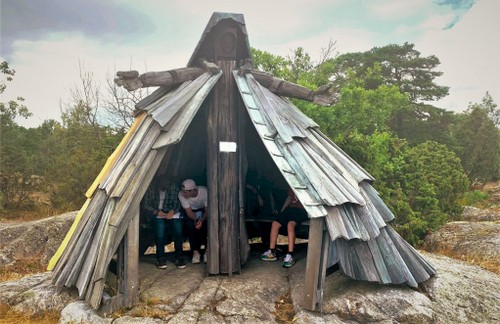 Fig.1: Stella Maris windshelter on Sävö
(Maaike B.-T.).
Bathing is allowed almost everywhere, except of the few private properties, which you will notice through decent fences. These fences are not only here to keep visitors out! Sheep and cows are living freely on the island in spring and summer. They maintain the vegetation and preserve the landscape on the island. This way, flowers can grow freely and trees cannot take over.
If you desire a typical Swedish fika (coffee with pastry), lunch or ice-cream after your hike, you are more than welcome at Sävö Vandrarhem & Café, which is open from early spring till late autumn. There, you can stay overnight in one of our cosy rooms.
The houses used to be the residence of the pilots that worked here till the late 1960's to guide and sail the ships through the Sävsundet. The white and red house on top of the mountain, where LOTS is written on the front, is still existing and contains now a museum, which you can also visit.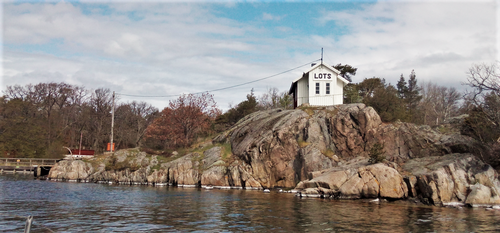 Fig.2: LOTS house at the top of the cliff (Stefanie S. 2019).
We can arrange your boat transfer from the mainland (Källvik) to Sävö easily. It only takes 10 minutes and is a beautiful experience in itself.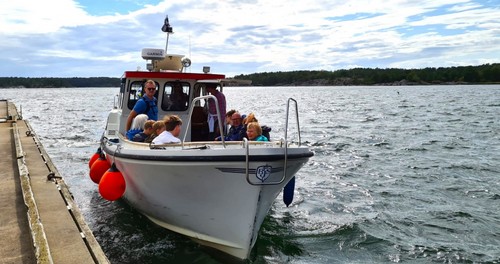 Fig.3: Boat transfer from Källvik to Sävö
(Maaike B.-T.).
More information about Sävö and the hostel:
https://savovandrarhemcafe.se/
For bookings please contact:
info@savovandrarhemcafe.se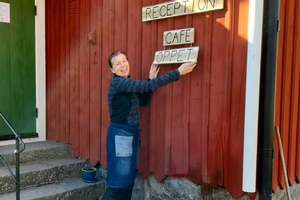 Fig.4: Maaike Bäck-Tysma (Maaike B.-T.).
I want to thank Maaike for her beautiful article, which is an enrichment to my blog about Sörmland. From may 2022 on, you can experience a guided walk with me on Sävö island in combination with lunch and fika provided by Maaike and enjoyed in the beautiful surroundings of the café's garden.
You can find more information about this experience here.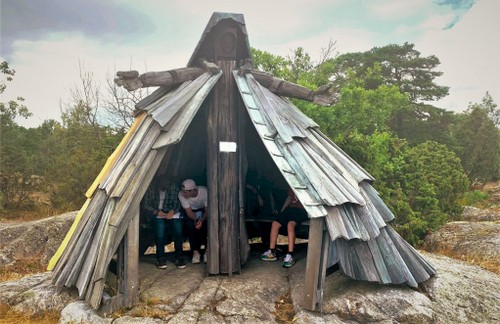 There are no reviews yet.